October 29, 2001.

At last we did some useful "corrections" to the KaTooM! Now, take this seriously into consideration: I was secretly told by the dealer, at "On-Off Katsafaros", that the seat cover alone is worth a "few" seconds at an enduro special stage!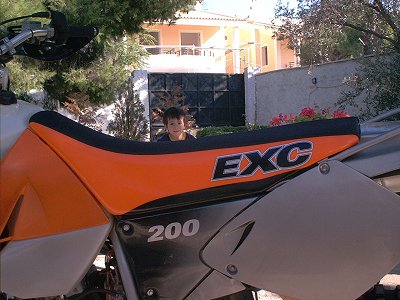 I took the seat and the new cover (cost of the cover was GRD 17200, installing it cost another GRD 4000) to a local upholstery shop. They did an excellent work, as you can see here.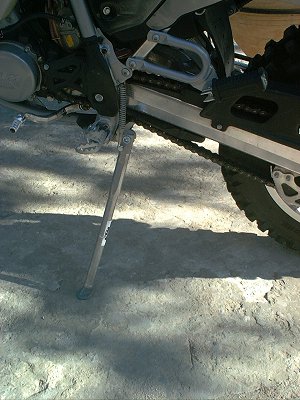 One more addition was the sidestand. This is not..... worth any seconds in a special stage, I was told, but anyway made riding the bike daily a lot easier! The sidestand eliminates the centerstand, because it is bolted at the very same frame hole, in which the centerstand was. Cost: GRD 25,500.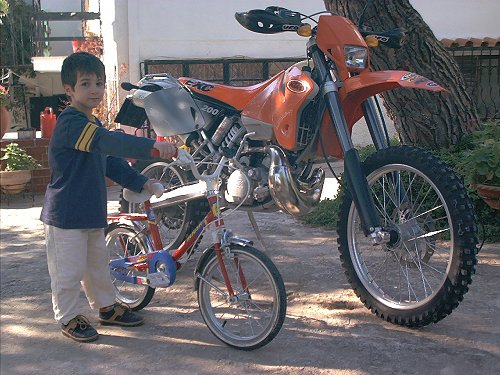 So... this is the latest of our new KTM!



The next plans say an enduro ride with friends (Consider it a no-contest! The company rides on a Suzuki DR250SH, an F650, another DR650S and me on this! The funny thing is THEY invited me to ride on the dirt... So, next Sunday, we are riding trails on the side of Parnitha mountain! Stay tuned.

Oh! And one more plan: This month is full of things to come! On Sunday November 11, there's a trail ride, organized by a local magazine called 0-300 and SYMOFE club. I was thinking to ride with them! My.... first race!

Last but not least, the final round of the European Supermoto Cup will be held in Megara Track, (about 20km SW) of Athens, on November 18, 2001. I will be there, of course!
---
Back!