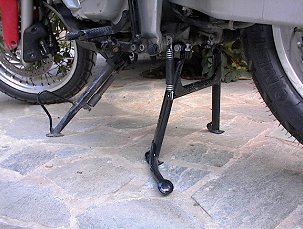 It looks good, made the bike about 2kg HEAVIER and it does a damn good job on holding it upright!

What is quite funny is the fact that while the bike has everything prepared for the centerstand, it came without one! Looks like during the first two years of production the centerstand was only an option, while it became a standard fit accessory, from year 1995, forward. So... I paid dearly for it!

Even though I went to my local BMW service, at Antonis Panagiotopoulos, to have it fitted, the stand comes with all needed hardware and complete instructions, (in all European languages, including Greek!) so anyone with decent tools can fit it in about 20-30 minutes.