Stel Invaded America !!!
---
...or should I say... it invaded me?!
Oh well... either way it was a so wonderful experience!
as you all know... I went there to meet my real life best friend, Nikos, also known as HorseNail in NG, who moved this summer to Virginia, USA, to get married to Spiridoula, also known as Sweets, in NG. I was present at their wedding.. and I m so happy I was there!
Also... this was my first ever trip to America, and I regret my wife was not there too... You see, I actually first met her, in Nikos' home, back in 1985... so... let's just say we're something more than best friends with Nikos!
so... enough of this ... here's the diary!

Sit back and enjoy the ride with me!

---
Day One (Saturday, January 2, 1999)
---
It was a really nice flight... for those of you who are afraid to fly... just two notes... First: Olympic Airways (the Greek Airlines) allow smoking going to/from the USA in flight! (hear me Michelle?!). Second: The service is excellent and the planes are just plain great!

The flight was run as scheduled... at exactly 5.10pm we land at JFK, as planned. After less than half an hour we are out on the street. First man to meet was George, (AIAS in NG), a guy I first met in Gamesgrid some three years ago. Since then we have met also twice when he came to Greece, not to mention the countless times he has won me in NG (the lucky bas---d!!!! I love you George!).

He and his friend Christos led me to Terminal 5, where I was taking my next flight to Norfolk, Virginia. Since they saved me over half an hour of searching for my way in the huge JFK, we had some time to chat happily. We would meet again in Thursday, after I would come back from VA to NYC.

The queue line at the check-in for TW was HUGE! Over 150 people were in line... but it went fairly quick, since there were over 40 desks operating. The worst thing came after I approached gate 41, for departure, where I saw it was a major delay for all flights to nearby airports due to bad weather to them. NYC was dry and very cold at the moment, but snowstorms were delaying flights from other airports. So, finally we left at around 12,30pm!

The flight was quick and easy, lasting around 65min. On approach to Norfolk airport, though we are hit by a strong side wind, so when the pilot has almost landed... touches the left side wheels of the small ATR41, but he cannot touch the right side wheels... so he takes off again, does a circle above the airport and the second time around he lands both sides on the same time, safely.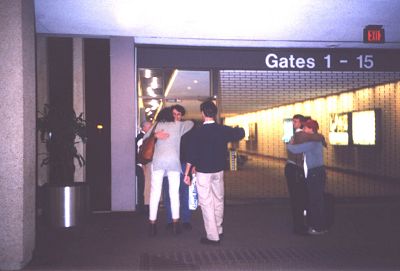 On exiting the airport... and entering the main lobby, I see Nikos and Spiridoula from far away, so we wave to each other! We get closer, we hug with each other.., and then I notice this lady taking pictures... So, I ask Nikos "lets get out of her way, so she takes her pics". She keeps shooting... A very few moments later I feel a pat on my back... and a loud voice calling MY NAME: "Bonsoir Stelios mon ami"!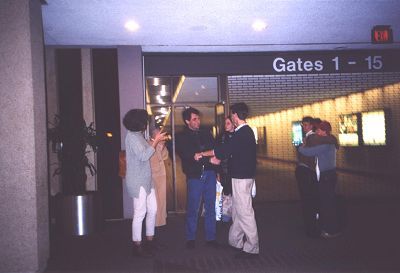 French?? In Virginia?!!!
Something wrong here!!!!
I turn around and I am face to face with Joanna! Yes! Galidoula from NG! Now, THAT Was a so pleasant surprise! She was waving two Quebec flags! ... and she kept hitting me on my head with them!!!
Seems she was there quite a few days ago! ahhhh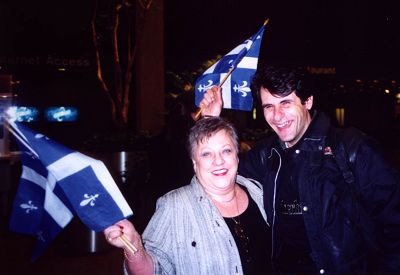 Salut Le Quebec!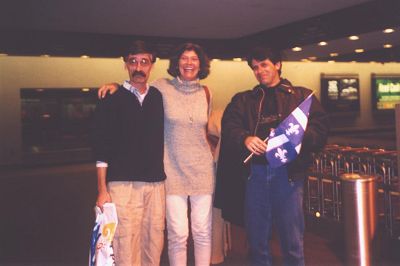 The drive home was a quick one, less than 45 min. We meet Georgia, the Maid of Honor (Effective, in NG), who was waiting for us at Spiridoula's and Nikos' home. We had a late dinner... and we sat there talking, all five of us till it was almost 3,30am! Oh boy! What a meeting this was!

---
Day Two: Sunday, January 3, 1999
---