A Scratchbuilt Gilera 500 Saturno!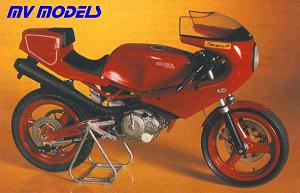 The most recent news from my Italian friend Manuele Villa is here!
Enjoy them!
I send you eight pictures of the model of a gilera saturno 500 "bialbero", it is an 1/9 scale, entirely scratchbuilt, model !!, I have designed and built it, four years ago, on request of an italian collector (note his name,"sergio p.", on the sides of fairing,... he paid for this !!), it was a six month very hard work, i have designed the model entirely with autocad, from original photos and workshop manual, all the pieces were carved or lathed in pvc, plexiglass, brass or aluminium, or plasticard vacuformed (saddle, fuel tank and fairing). I think that it is the best model i ever built.



Click on above images to view larger jpg's. (590X380 pixels, around 35-40kb each)




For more detailed pics, click here!
(All thumbnails in next page are 4kb large, each,
leading to 590X380 pixels larger jpg images,
sized around 35-40 kb...)
Go on!




JUST A LITTLE DESCRIPTION :

Only the beams of the rings came from Protar Lawson's Yamaha 500 GP !!
Rings and tyres : pvc/aluminium (lathed)
Frame : brass tubes (welded)
Engine : polistyrene (stratified and carved)
Exhaust pipes/silencer : Evergreen tubes/aluminium (lathed)
Front/rear suspension : Evergreen tubes/steel wire
Handbar/commands : Evergreen tubes/rods
Disk brakes : plasticard
Mudguards : plasticard (vac-u-formed on wooden original)
Body and fairing : plasticard (vac-u-formed on wooden original)
Decals : printed (offset) in white on Tauromodel decal transparent film
Back to the plastic motorcycle models....
If you'd like to see your models in this page, all you have to do is e-mail me and the rest will be my pleasure!
My e-mail address is: steliosh@steliosh.net