April 12, 2004.

I took my little Alfa for a brief spin at a local office corridor! Don't ask where it is, but it had an almost shiny plastic floor and it made for some amazing spins and burnouts! Actually you cannot drive the car even in a straight line... Just punch the throttle and it goes spinning!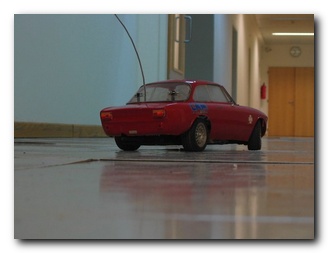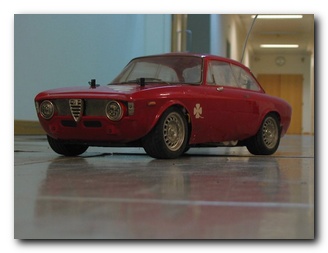 Static, it looks the battle scars. The mirrors have been broken during the abuse it's been through. You know, sideways on the wall... slam! bang! Same holds true for the tiny stickers that once were the window frames. The body has developed a crack on the right rear wing, and I had to add two stickers: one on the inside, one on the outside, to keep it from flapping around!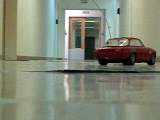 And a small video! MPG file. 11 sec duration, 1.2mb size! Right click above thumbnail and press "save target as".