Skoda Octavia Combi 4X4 ABT!
From our summer 2004 vacation to Naxos Island!
(More Naxos here!)
Why we chose a Skoda Octavia...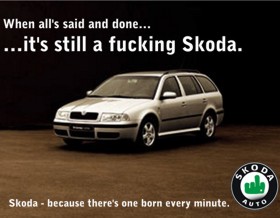 Title above... says all!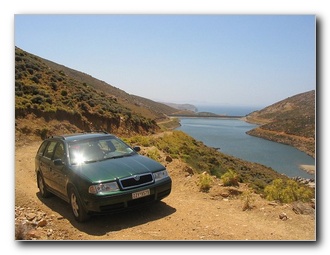 Skeponi. We took this gravel road to Sekponi Dam, but it ended abruptly about 5 km from the asphalt. The road starts about 6km from Eggares, on the northern coastal road to Apollon.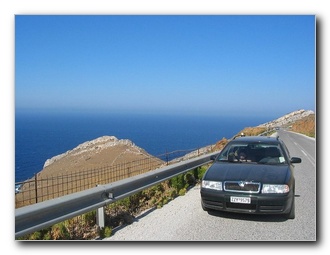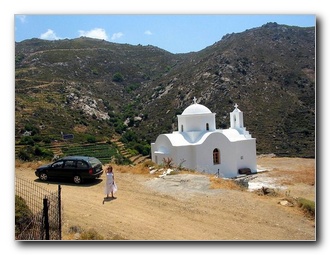 The northernmost cave of Naxos: Stavri. This is the northern coastal road going to Apollon. It may not be at a great height, reaching up to 670m above sea level, but the view of the sea is spectacular. A must to drive, there is very rare traffic and fabulous turns!

Trailriding at Myrisis. This road is gravel and starts at the Abrami junction, to the south (right) on the way to Apollon. It is some 25km long and completely tractable, even by a "normal", low passenger car. At some point you reach the Karyopoula rock, which towers almost above Apollon.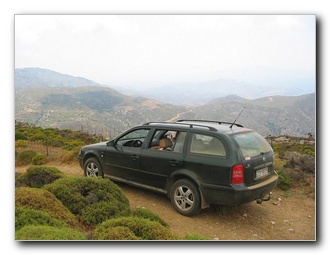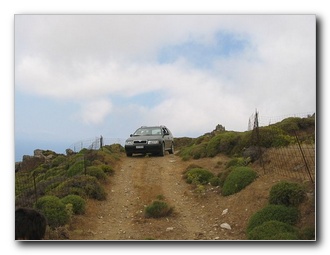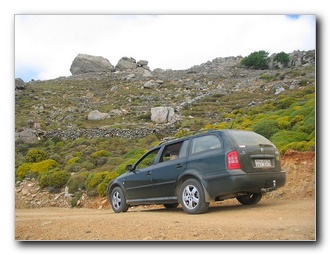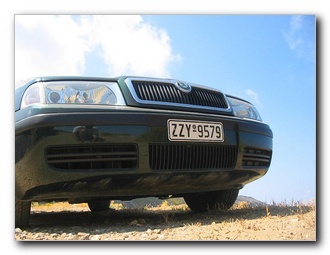 At the famous rock of Karyopoula. I managed to scratch the undertray, when space for a u-turn was at a premium! It was well worth it, however. The road could be explored even on a big trailbike, like my R1100GS!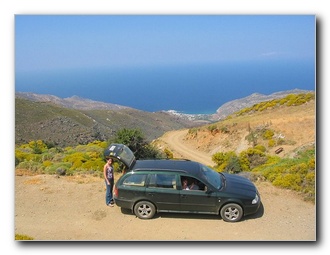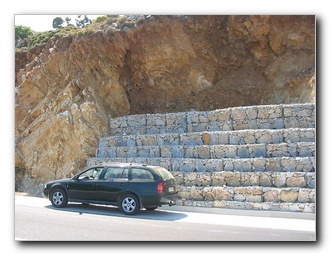 Approaching Apollon. A few turns after Karyopoula, you will see Apollon on your left. A few more turns from this point, there's my "own" home village, Komiaki, and the asphalt. If you go north (left) you end up to Apollon. If you go south (right) you take the inner island road leading to Apiranthos and the other small village, eventually ending in Chora, the port.

Near Apiranthos. The "inner" village road has been repaved recently, offering extremely good traction, is full of good turns and of course spectacular views of the villages as well as the eastern parts of the island.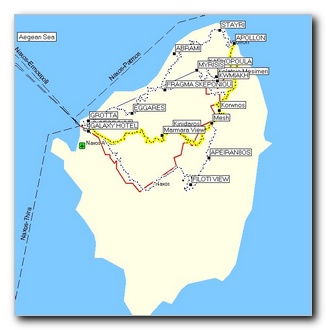 In this map you can see the roads we took. It's a copied map from Mapsource. The highlighted road is the one we took on the way back from Apollon, the "inner" road. You can see the track of the northern coastal road, too. Unfortunately, I did not record the gravel road from Abrami to Komiaki (Kwmiaki, in the waypoint).

---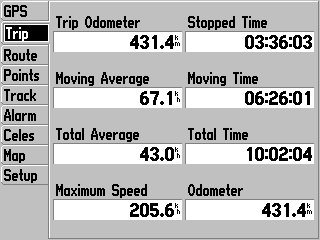 In a recent trip in the Skoda, I took the chance to try and max it out. Four lanes all my own, absolutely no car in the horizon, two kilometers all mine... I just slammed the throttle from 130km/h to 220. At 220 I let it go slowly and got back down to 120-130... Later on I looked at the GPS to see what it showed!

The image above was taken with Garmin's new program called xImage, which does screenshots from almost all Garmin models!
Oh, and it was a place with NO speed limit!

How the GPSMAP176 was installed in the Skoda!
---
After we sold our GPSMAP176 we got a new Garmin 2610
---
May 5, 2005: Skodaclub.gr Meeting
---
A 1/57 diecast Matchbox Skoda 130LR
---
Διπλά πίσω φώτα ομίχλης
---
Update June 9, 2005: Washing the Skoda!
---
Update June 16, 2005: Tinted films and some trail riding!
---
July 5, 2005: Gastouni and back!
---
July 21, 2005: Northern Evia
---
Update October 29, 2005: New wheels and suspension!
---
Update November 26, 2005: Water inside the cabin, after heavy rain! (Sorry, only in Greek, for the time being. Lots of pics).
---
Update January 6, 2006: Parking Sensors!
---
February 9, 2006: A 1/43 diecast Skoda Octavia Combi, made by Abrex.
---
February 17, 2006: A Radio Controlled Skoda Octavia Taxi!
---
skodaclub.gr Dyno Day!
---
More Skoda here!
---
My service history