Latest update: May 17, 2002.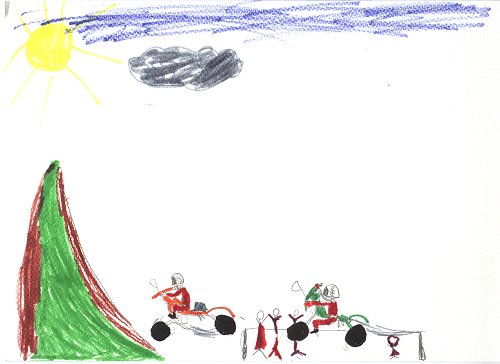 So... we rode the KTM! Actually, the whole family did! But, truth to be said, they were only... passengers.... and only inside our back yard; not out in the street or dirt.

First impressions: These came after about 500km's of riding, almost half of them in the dirt...

On the street it's an amazing bicycle-like light thing that can be tossed around stopped cars in heavy traffic. In fact even scooters and thru-peds are having some difficulty to keep up. Mind you, the bike is being ridden very gently, no wide throttle openings yet, no extreme accelerations and stuff.

What I've enjoyed in street riding:
The light clutch pull, the instant throttle response, the bicycle-like slimness and lightweight feel.
Its lights are very strong, even being of the 35/35W variety (and hard to get replacement bulbs) for night riding, even on deserted roads with no lighting.
Even with the knobby Bridgestone Gritty tires, its road holding is excellent, at least in the dry, and I found myself occasionally leaning at some silly "supersport-style" angles!
The Brembo brakes are an eye-watering experience, and the feel they give is so amazing, that you have to restraint yourself from doing endo's at every traffic light!
What amazed me also is the suspension feel, at the stock adjustments, as they are described in the book. More on these, in a minute, when we will discuss off road!
Last but not least, the tool kit that came with the bike is excellent, and can cover even a major service done with them! And there's even a beer opener, for those lazy Saturday afternoon service chores!!!!!!

What I didn't like so far:
The seat is hard as a rock! Even though it has some minimal padding, it makes for a sore butt after 20 minutes of riding.
The steering stops were a bit lazily put from the factory, and the turning circle could be as wide as 10 meters! I readjusted them, and now it can turn on a dime, literally!
The carb was set VERY richly, which resulted in three bad things occurring:
a. The bike would not idle.
b. The fuel consumption could get you poor in a few tank fill-ups! Talk about 60km's done with about 10-11 liters of super.
c. In the first three gears, the bike would just burble and not progress, which made it difficult in traffic. However, it would pull cleanly once 4th gear and above were selected.
There was a temporary cure for all this. I visited the authorized dealer "On-Off Katsafaros" in Kifisia, and he re-adjusted the air screw, at 3.5 turns from fully closed, and turned the idle screw fully in. Now the bike will hold an almost steady idle and at the same time it can be ridden smoothly at low speeds and low gears. Fuel consumption went a bit better at about 70 km per tank. I was told that this will be fixed as soon as the bike is broken in, which will be around the 600-700 km mark. Then the carb will be rejetted completely, to be a little poorer. Stay tuned on this one.

Off Road riding:
Scratch most of the above "bad" marks when the road turns to off... Seat hardness? who cares? you don't even sit!
Surging? You don't even notice it anymore.
What really is amazing is the work done by those really amazing suspension units. Both front and rear WP's work so nicely that they resemble my wife's Citroen! You just aim your eyesight to something, and the little Katoom will just roll over it, no matter how deep/hard/soft is the ground under it! We tested it in a local small practice mx track... Amazing!

More pics will appear shortly!

and what you see on top, is Eleonora's "photo"!


---
Update, September 27, 2001
---
Looks like all the above problems of the Katoom carb were some sort of easily passing legislation things. Actually, I took the bike to the dealer where I bought it from, and they did some tricks in the carb, and the bike simply rips now.

The stock settings of the carb were:
Slide: #6
Main Jet: 180
Pilot Jet: 45
Needle: NOZ-G
Needle position: III

What was changed?
Slide: # 6.5
Main Jet: 175
The rest remained as they were, and the bike simply WORKS! Well, there's still a SMALL tiny hesitation at very small throttle openings, which I was told will be rectified with a 42 or 40 pilot jet, and the fuel consumption is to be checked again one of these days. However, I just can't tell how many XT's and other thumpers I've humiliated on the road... Even a poor guy in a GS1150 who tried to follow closely on my favorite uphill asphalt twisties was soon left into my smoke. (He didn't know I've "learned" what my own big Bimmer can do up there! hehe!)
Oh! Smoke? It's gone, too! The bike is no more smoking!

What remains to be seen now, is one other small niggle I've found on the road: The headshake that is even more disturbing now, that the KTM can easily go over 100km/h. Experimentation with the suspension settings are due.
---
Update October 29, 2001.
---
No news is good news. We installed a side stand, and an orange-black EXC seat cover, from the 2002 model lineup. Mind you, this one is also one of the million tiny improvements over the model years. It comes glued AND double-stitched, while the previous years' seat covers were only stitched.

Fuel consumption is a steady 110-120km's before it needs to switch to reserve. Not bad at all! Top speed encountered on the street: 155km/h. What about that headshake? It vanished itself above 120km/h. However.... the vibrations were EXCESSIVE above 120km/h, so I intend to stick to the lower side of 120km/h!
Oil consumption is a good 600-700 km for one liter of Synthetic oil. Now at 1200km's total, I just added the 3rd liter of oil. And yes, this one's got an oil reservoir on the right front cooler shroud, and an oil pump to automatically do the mix.

This particular model i bought, is designated a dual purpose model, having a rear rack, passenger footpegs, turn signals, an analog white-faced speedometer and even useful lights - a 35/35W bulb that's doing an excellent night job!. Despite the passenger footpegs, however, its license states it's a single passenger vehicle (Just the rider, no passenger! Messing?! You bet!)

Talking of speed, a note on gearing: The final drive ratio is a solid 3:00, at 14/42t. Despite this being very very tall gearing, (the premix *racing* EXC models come with 14/48 or 15/50 gearing!) one can easily recognize the almost-too-well-hidden racing gearbox ratios beneath this long ratio. The 1st through 4th gears are spaced very closely among them, gifting the bike with excellent acceleration (talk about 0-100km/h in LESS than 6"!!!!). However, once 5th is engaged, things smooth out, and along with the use of 6th, you realize these last two gears are quite lazily geared! (Not to mention the headshake!)

Oh the headshake! Yes, I've got updates on this too. Looks like it's being caused by the rim locks, front and rear. There are two solutions: First: Get rid of them and I suspect that the headshake will go away instantly. This presents a small paradox however; In the dirt you are riding with way too low tire pressures, so this may lead to a flat, almost instantly, especially in our gnarly and rocky trails. I can always ride street pressures, but then the bike is really almost unrideable in the dirt. Go figure!
Second: Get rid of the rim locks (yes, I know I said this already), and fit dual purpose tires like some Bridgestone Trail Wings or something from Dunlop or otherwise. But then, the dirt driveability of the bike will be dismissed... Any helping hints anyone out there?!

I might go for the second solution, in the end, since I ride on the street almost 80% of my riding. Also, now that winter comes, I've noticed that the Bridgestone Gritty's really do HATE water on the street! They start sliding around even BEFORE touching the wet stuff!
---
A few questions to anyone out there caring to read the above:

- What exactly do all these "clicks" on the suspension ends?!
- How does one adjust the power valve, and WHY?
---
Update March 9, 2002
---
The final gearing seemed too long legged for off road use, especially after we rode the SYMOFE trail ride, in late January.

You may well ask about this event, how come I didn't present any photos?! Well, truth to be said, I thought it would be a decently fast race, and we wouldn't have time left even for a cup of water, not to mention stopping to take pics! It turned out that my brave friend Costas who decided that he would run the entire TrailRide aboard his BMW F650, was the limiting factor. (To understand the word brave, just take a look at the Karting section! Notice his "always-sideways" driving style!!!) I mean, he was not limiting us himself, but the Bimmer surely did. So, there were about 205 entrants in that TrailRide, and about 177 finishers. The winner, a girl, no less, finished the 55km long trail in something around 2 hrs and a few minutes. We eventually managed to see the finish flag 4 hours later that this lady, totalling 6hrs and some 30 min. or so. However, we should earn an accomplishment from the organizing SYMOFE for finishing the TrailRide with this F650! Oh, and we took the 166 to 170 places, NOT finishing dead last!

Lesson learned, and in the next TrailRide, to be organized in Meteora during the three-day long weekend of March 23-25 (March 25 is a National and Religion holiday in Greece), by MOTO magazine, we WILL take pics, no matter what. Lesson #2 learned, the BMW will stay garaged and a more proper Suzuki DR250 will be Costas' mount. As for the team, in the January TR we were the usual suspects: Me on the KTM, Andreas on his DR650, Epi on the XT600, and Costas on the F650.

Now, back to the gearing: The KTM came with a weird standard gearing at 14:42T, which gives a perfect 3 for a ratio. Everyone who was aware that I intended to do serious dirt riding, suggested I should change my rear sprocket from 42t to at least 48, some extremists suggested a 52! Now, me being the sensible guy (ha!) I am, I opted in the cheap solution: A 13T Talon front sprocket, combined to the standard 42T rear, gives me a reasonable 3,23 final drive ratio. KTM suggests in the owners manual a 14/48 ratio which gives something in the region of 3.46. So, I'm smack in the middle. What's more important... I'm using my old chain, just readjusted the chain tension. In the case of a bigger rear sprocket I should hand over the best part of 110 Euros for a new chain.

So, the ride we did with Epi, on February 24, 2002, I was already using the 13T front sprocket, and I have to say that the bike seemed lots more lively. What I didn't like, however, was riding in on the street, (remember it's street legal, and quite lovely in thick city traffic, beating EVERY scooter/moped in terms of width and lane splitting!). It will not go as easily over 110km/h now, in 6th gear! Gulp! Also, that annoying wobble, now appears at lower speeds, around 60km/h or so. Looks like I'll have to keep changing sprockets: 14T for street use, and 13T for off road, which is a simple 5min job. I think it's time for me to go check those tires and rim locks btw!!!

Also, the Saturday before that, and having nothing better to do at home, I tinkered the carb a little, changing the settings to :
Air screw: 1.5 turns open
Idle Jet: 45
Needle: NOZH
Needle Pos: 2
Main Jet: 180

(these are the KTM recommended settings for 0-300m altitude, and temp ranges 25-38*C).
The sputtering it did with the last two gears selected, and running with closed throttle is still annoying me, but I learned to live with it!

Fiddling with the bike, inspecting here and there, revealed a small leak underneath the left front fork. I told my dealer, On-Off Katsafaros, and he broke my heart, taking the compressed air gun and overtightening the nut that resides in there. Ouch! It stopped the leak however!

In every other respect, the bike is totally leak free, after 1850km's and some 7 months of ownership. One thing that I don't like, however, is that it started to look a little "used", particularly the orange radiator shrouds, the exhaust header, and the aluminum swingarm, both of which have started to show some light external corrosion signs.
---
A few words on my KTM itself, which are long overdue. This specific KTM is a Singapore export model, which has a few changes when compared with the dirt oriented *racing* EXC200, you will see in KTM's site, and in the EXC brochures. It also came at a price about 400.000 drs cheaper! (about 1175 Euros), costing me 1.700.000 drs (4988 Euros).

Supposedly it has a few millimeters shorter seat height, but I can assure you everyone who rode it, found it really tall! Visually checking the forks and shock outside, they are the exact models that the owners manual says, but then again there might be some sort of travel limiters or spacers inside them.

It is a 2001 model, which means it sports the same graphics, with an orange oval sticker logo on the radiator shrouds, either side of the gas tank. It also has a gray seat cover, a leftover part, I think, from the 2000 lineup. (I duly changed this one with a 2002 model seat cover).

My KTM came in a street legal guise, which meant, it had turn signals, and a big road-oriented rear mudguard and a big rear taillight bolted atop it. I suspect the taillight was a copy of those Yamaha used by the thousands on DT's and XT's over the years. It sure looked like them! I changed these two, with the EXC dirt models, along with the speedometer, which was analog, and included a total odometer only, on its face, lacking the important for enduro use resettable odometer. I changed this too with a Panoram computer.

It also had some sorts of restrictors in the exhaust carburetor and air filter, which were removed as soon as the bike was unpacked from its crate! (The slide took a few weeks to get to be replaced).

Engine-wise my KTM also came equipped with a complete autolube system, consisting of a transparent 1.3 liter oil tank, located inside the right radiator shroud and an oil pump operated by the throttle cable. Last but not least, it came with a centerstand (I changed this too, with a more convenient sidestand and very heavy (at 1.5kg total!) passenger footpegs, which as Mrs Ophelia will attest, are very comfortable (she will however admit that the iron hard seat is just that: hard!).

Can you say this bike is a modern day DT200R? I believe so, yes! Alas, I used to run and love one, for 7 years! It's got the good all-day city riding manners one would expect from a DT, plus it's a few good classes better than the DT in the dirt.
---
Update March 27, 2002: Right after the trailride to Meteora, a few more notes on the KTM and the whole trip in general.
---
The KTM in general didn't miss a beat, almost! On day one I enjoyed it, even on the quite long stretch of asphalt to the campsite. The campsite was at about the 15th km of the road from Kalampaka to Grevena. It has some long straights on which even with the shortened final gearing I managed to see 128km/h on the Panoram! Actually, I saw this speed, after I stopped, since I was really unable to read the speedo at that velocity! The Panoram records the highest speed you attain at a ride, after you reset it.
The ride in the trails was a marvel on the KTM. The trail was dry or damp gravel, no stones and I simply took some liberties to even do some wheelies! In the riverbank sand we stopped and played, I was amazed by its traction, so much so that I managed to lean the bike to some silly angles, where I thought the bar would touch the ground while still having traction!

Day two was Sunday, and it snowed. I didn't feel like getting myself soggy, wet and cold, so I let the other three friends go for a one hour ride in the cold... However, in the afternoon, Epi, the usual suspect suggested we ride for one more hour. I did the mistake to... accept the challenge. Only, the gravel roads and the trails were snowy AND muddy, resulting in endless spins and abuse of all clutches. On the way back, I was so scared -it was getting dark, fast, too- that I managed to ride the whole comeback without opening the throttle, even once. This resulted in the KTM fouling its spark plug and me pushing the bike for the last kilometer or so, on the way back to the hotel. Later, at the warmth of the fireplace of the hotel lounge, we were discussing what happened with the nice guys from Livadia, a bunch of crazies who were riding a '93 KTM LC4 350, a 97 Husa, a 92 DT200 and a 93 WR200 among others. One of them offered me a used but clean spark plug, from his CR125 spares and the little KaTooM was alive in 5 seconds again.

Monday morning we rode towards the campsite again, to find out that the scared campers had been long gone (scared by the weather, that is!). Monday was sunny, warm and nice, but the snow was still there, melting, and transforming God's playsite into a mud wrestling arena! We found the Livadia guys, and they took us with them. Spectacular places, lovely trails, good fun... no, make this Great Fun! Oh, the KTM worked crisper than ever with this spark plug!

So.. no casualties? Not really! The Panoram was left blank, after its battery died in the middle of the trail. It showed a "Low Battery" for a few seconds and then its showing went crazy. Very short battery life indeed. Ah, and 10 days after I got my new Panoram, Trailtech announced a new version of it with incremental/decremental odometer and twice faster showing of the speed. Hmmm, can we upgrade our new Panoram, I wonder?!
---
April 7, 2002.
My friends and I, did a nice Sunday afternoon trail ride, a rocky one, to be sure (check the pics, here, and come back to read on!). A few comments on the carburation of the KTM which never ceases to dissatisfy me! On the asphalt ride to the trail, the KaTooM was crisp, quick, fast, and it even showed a top speed of 101 km/h. A real pleasure!
As soon as we hit the trail, and the really slow rocky stuff, it would idle hesitantly on the one hand, while on the other, it would pull 2nd or 3rd gear crawlings at a snail's pace, without hesitating! And when there was a place where you could really hammer the throttle, it would REALLY hesitate, not only to build revs but also after taking some time to clean its throat, it would not rev high and cleanly up the range.
The settings in the carb, are what the owner's manual suggests for the temp region 16-24*C, and heights 300-750m. That is: Main jet 180, NOZG needle in middle (3rd) position and 45 idle jet.
It's puzzling me. The circumstances were exactly those: Temp around the 20's and height never exceeded 800m! Any SUGGESTIONS, PLEASE?!!!!
---
Update: May 17, 2002.
I managed to solve some of my long lasting KTM-blues! First and best, the carburetor! It works, at last! Call me an idiot, or whatever, but... when I was reading the needles setting in the owner's manual the other way around, which means I thought the rich settings were the lean! Confusion!
So, finally I bought me a few jets and after a very short period of trial and error I found what seems to be ideal settings:
Pilot Jet: 42
Needle: NOZH on 2nd position from top
Main Jet: 175.
Now the bike will happily idle steadily for a long time, and any time you open the throttle, no matter the weather (which is getting real hot lately, into the high 20's and low 30s) it will just jump ahead and eliminate everything in sight on the "stoplights drag race" short of my friend's Thanassis modified LC4! (it's got a Mikuni TMR40 and a handmade exhaust, which gives it a tremendous lowend !!!!).
It's amazing how cleanly it will run now, through the whole rpm range, at last! I love it!
Second good thing is the Panoram that it now works faultlessly, for the last couple of weeks. After an email exchange with trailtech, they suggested that I put some contact grease in the contacts of the battery, and to the contacts of the Panoram to its base. After this treatment, the Panoram has survived two trailrides and a lot of street use, with some quite high speeds too (it has recorded 124.8km/h and 128km/h top speeds recently!).
---
Stay tuned for more!
---