It is one of these moments, when you feel really delighted to find that someone from practically the other side of the world, is sharing the same passion and interests with you. Scott wrote to me in Jan 3, 2003, and sent me these nice pics and words about his KTM200EXC.
---

First I would like to start off by introducing myself.

My Name is Scott and I am an American, from Boise, Idaho. I have been riding bikes for about 20 years, and over the years have had many of them, and my most recent and favorite of all of them is my 2000 KTM 200 E/XC.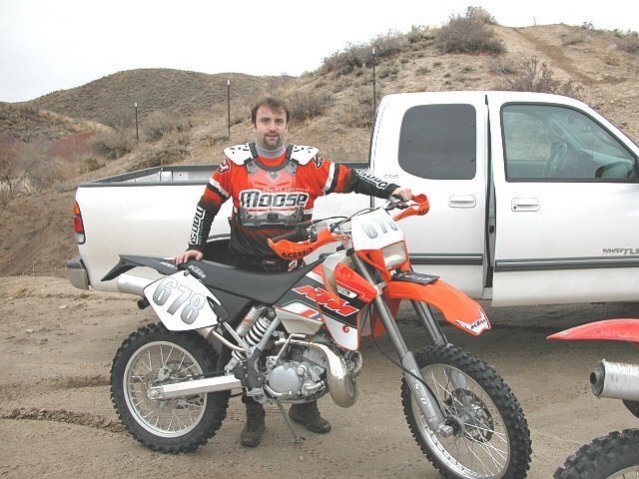 I first found your web site while doing a random search for the KTM 200 EXC. I thought that you and your family were very interesting, your web site was very cool, and I was interested in what it meant, and was like to be a dirt biker in another Country. I was really neat to find that we all share a common ground (Riding to have fun in the dirt with your closest friends!) I'd check back on your web site every now and then to see if you went on any fun rides... or did any neat upgrades to your KTM.

Unfortunately... I am not allowed to ride my KTM on the streets as it is a two-stroke, and our emissions control requirements are too stringent here in the States, but I race timed enduros, and off road trail ride mostly anyway.

My 2000, KTM, 200 E/XC, is a mostly STOCK, "American version". It came race ready out of the box, and I really couldn't find anything I needed to add to it, other than Handguards, so I have only installed the following upgrades:
Acerbis Rally Pro Handguards
Michelin S-12 Front Tire
Michelin S-12 Rear Tire
A must have 2003 KTM SX/EXC Front Fender
A translucent Fuel tank, (instead of the stock black tank)
New K-Style graphic's
New Black E/XC Rear Fender
New Black E/XC /SX Side Panel Number plates
MSR Products Enduro scorecard mount for the front fender support brace



I am very interested in obtaining the new Trail Tech "Endurance" Computer, and since you have the Trail Tech "Panoram" Computer (Replaced by the Endurance)... have a question on how you mounted yours. Did you have to fabricate a mounting plate for yours... or did it come with a billet Aluminum Mounting plate? Do you have any suggestions that might make my installation a little easier? What problems might I run into that you have found fixes for? Can you still access your headlight on off switch... or does the Computer get in the way?

Here is a picture of my bike with all my new graphics, and plastic before a 90 mile off road adventure from (you know where?) It was a brutal ride... and I ended up falling off of a 20 foot waterfall/cliff... Dropped straight off the edge, and it was about 20 feet to the bottom of the rocks. (I don't know how I managed to keep from getting hurt, just luck I guess, but the only damage to my bike was a broken headlight number plate, and really scratched fender, and my right side number plate). To put it gently... my plastic, and bike weren't looking new any longer, so I had to invest in some more plastic.(Smile) See below for the new look...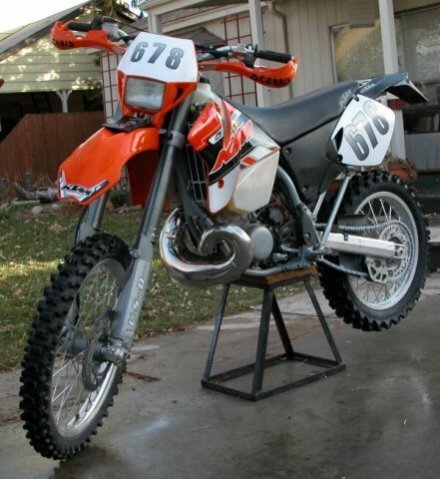 Boise, Idaho is mostly high plains desert, with timbered area's at the higher elevations. Within a two hour driving radius... you can be in the Sawtooth Mountains with elevations exceeding 9,800 feet, or the Dunes of Bruneau. There is excellent single track trails, and hundreds of miles of mountainous dirt roads to explore. If you would like... I could send you more pictures of Idaho, and some of the places I ride with my friends?
Idaho is a great place to ride off-road. It offers over a thousand miles of just Dirtbike and ATV trails (ALL OFF ROAD! There are High Mountain Lakes full of trout, Elk, Moose, Deer, Bears, Mountain Lions, and even Wolves. I just purchased a Nikon CoolPix 5700 camera, so I plan on taking a lot of pictures of Idaho, and my dirtbiking adventures. I am also in the development stage of my new web site, and would like to send you the address when I publish it on the web. I am just doing the final touches now, and it should be up shortly.

It was really nice writing to you...I feel like I already know so much about you and your family from your web site, and would really love it if you found the time to write back.

Maybe we could share some of our dirtbiking adventures...

Have an AWESOME 2003!


Scott


---
And here's Scott's 2nd email, with even more interesting pics and words... check it out!!!