Team Quad's Plastic display motorcycle models
---
(same page inGreek)



This page is devoted to plastic static-display motorcycle models we have constructed from kits available to the public from various manufacturers of the world. The models shown here are mainly from Tamiya, in 1/12 scale, but there are some models from Revell and Matchbox, too, all in 1/12 scale, so far. Models covered here are mainly in stock form, as bought from the self. The construction is based solely on each models instructions and the colors are usually the ones suggested by the manufacturer of each model.
---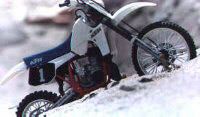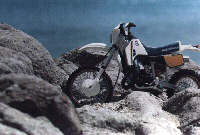 However, the modelling "demon" never stays behind us, so we bought Tamiya's 1/12 KTM 250 MX model and constructed it as per the instructions. Then we bought two more KTM's and made two major remakes: One is a Honda XL600R that was modeled after measuring the real one that Maitre had at the time. It was a white '85 model! The second one, a Husqvarna WR250, was made after studying motorcycle magazines and company brochures of that era: '84-'85. All three models are resting at the time in our garage! Next project on the KTM 250 MX is my current bike, the Yamaha DT200R. The similarities are too many to ignore! Watch this space...
---
Racing Bikes!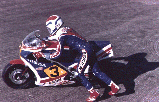 Freddie Spencer and his Honda NS500, won the 500cc World Championship in 1983. This great rider, one among the best riders of all years, is captured here pushing his NS500 on the starting grid. It is worth noting that this pose of Spencer looks very realistic when photographed with the sun in the back. If, while constructing the bike, you don't glue the rear cowling and the tank onto the frame, you can later detach these and show the innards of the bike. On later bikes, however, Tamiya have adopted a new style of attachment of the fairing panels, with very small screws, so you can completely detach the panels and show off the engine and frame.
---
Street Bikes!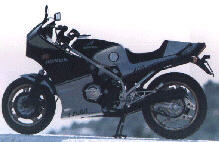 These are the bikes you and I have... Almost! This one is the 1983 VF750F. This version of the bike with the full fairing on was never really imported to Greece. The one we got had the "bikini" fairing which showed off every inch of that good looking perimeter frame and the V-4 engine. There is another photo of this bike available at the moment. More bikes will be here pretty soon. We have built a street-spec VFR750R (RC30), a racing RC30, a Yamaha SRX400(600), an FZR750R, an old RZ500R (RD500), a BMW K100, a Vincent Black Shadow etc. There is also the R/C motorcycle page. Enjoy yourselves...



---
back...
This page in Greek
The Yamaha SRX600, by Tamiya Documents and photos are Copyright ©Maitre 1996