---
so..... its my 6th bike!! And I bought it on June 19, 2001!
---
Update: September 10, 2001 (text only, my R1100GS Comments)
---
A trip to Naxos island, Summer 2001!
---
A trip to Santorini island... September 2002!
---
Sept. 17, 2002: A new and long overdue update on the FatCow!
---
Sept. 19, 2002: A new friend with a Red '95 model R1100GS. Some TLC for our both bikes, a chat etc... (Updates: Sept. 25, 2002, Oct. 1, 2002, Oct. 18, 2002)
---
It's about time I change this awful suede seat cover of the BMW... On Sept. 25, I visited Connolly's (no less!) for a new seat cover. Looks good and feels good!
---
Updated September 20, 2002: My favorite BMW links. Some are good some are not. Anyway, it's what I like among the thousands found on the net. Most are R1100GS related, some are for the fun, some are travelling links. You choose!
---
Updated September 20, 2002: A few BMW Motorcycle Screensavers.
---
October 13, 2002: A few strange BMW's at Intermot 2002. You've all seen the K1200GT and the R1200CL. But what about these?!
---
Jean Pierre Goy on a K12LT!!!! (oh... and an F650CS)
---
The service log, so far. July 30, 2007.
---
Dec 17, 2002: Reflective Decals for my saddlebags!
---
Dec 24, 2002: A Krauser topcase.
---
Dec 27, 2002: A beautiful (and silly, and useless) addition!
---
January 18, 2003: A trip to Europe... Easy stuff they told me!!!!!!
---
February 8-9, 2003: BMW Greek Riders Club first meeting for 2003
---
March 28, 2003: The GS on the Dyno
---
Updated the travel links, with Andrea Brigatti's travels.
Andrea visiting my home, at the end of his long 2002 trip.
---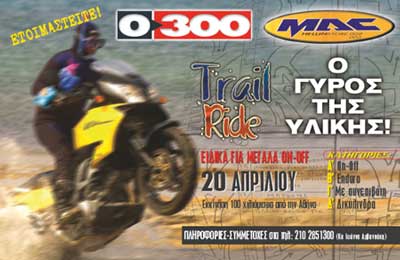 I was wondering if we should take part with the BMW or the KTM?!!!! Any ideas?!
I rode the KTM finally. I chickened to enter the BMW in the mudbath!
---
April 15, 2003: The 2nd dyno run and the results of the mods.
---
June 22, 2003: Sascha's exhaust makes a lot of noise!
---
July 3-4, 2003: EP8 in Vosges, France. A little Greek Adventure, 10-days, 3850km-long!
---
September 28, 2003: Update on the GS. A few random thoughts...
---
March 14, 2004: Athens International Motorcycle Show
---
March 15, 2004: The Krauser K5 topcase lock broke!
---
April 16, 2004: A Garmin GPSMAP 176. Update June 21, 2004.
---
February 25, 2005: Trying to rewind the speedo!!!!!
---
May 5, 2005: A new Garmin GPS 2610
---
May 22, 2005: BMW Enduro Training
---
June 25, 2006:

Doing two electrical mods to the BMW... Start the bike with the sidestand down, and get rid of the false ABS warning light.
---
July 2007:

An ATC2K helmet camera. Bridgestone Battlewing tires. Braking rear disc, Brembo pads.
---


And its a BIG BIG BIG hunk of metal, as well!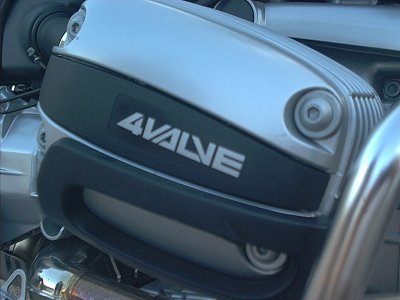 It's the usual by now, 4valve.....

and its a 98 R1100GS!
I bought it used.... with....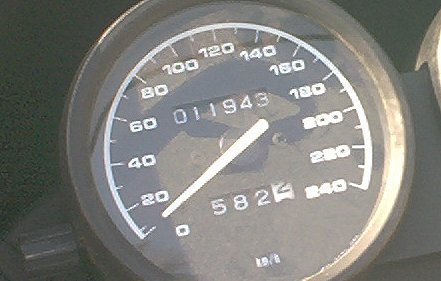 ...kilometers on it!
---
so..... what's it like?!
---
A one day trip to Delphi. 700km almost non stop in 8 hours!
A few remarks about the Delphi travel.